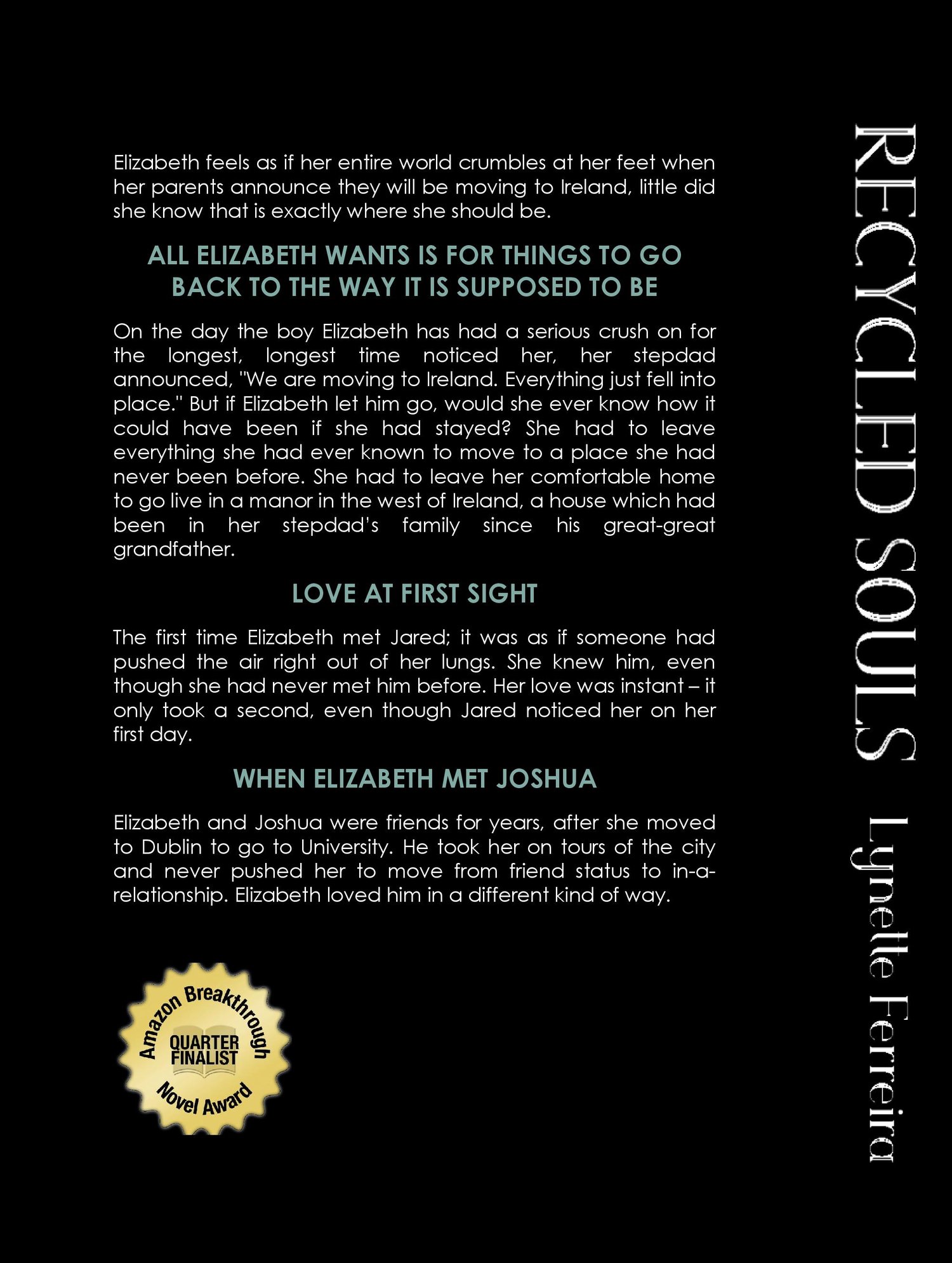 Recycled Souls by Lynette Ferreira
On Sale
FREE POSTAGE & SHIPPING
As an alternative, the eBook is available and can be read on any device.
Secure transaction
Indulge in a heartwarming tale of love, destiny, and the eternal bond that transcends time.
This enchanting teen sweet romance novel, perfect for readers aged 13 and older, will sweep you off your feet and leave you longing for a love that knows no boundaries.
Elizabeth's world crumbles around her when her parents reveal their plan to move to Ireland. Desperate for things to go back to how they're supposed to be, she reluctantly embarks on a journey to a place she's never known. Little does she realize that this unexpected twist of fate will lead her to where she truly belongs.
As Elizabeth settles into her new life in a centuries-old manor nestled in the west of Ireland, she encounters Jared. In a breathtaking moment of love at first sight, their souls connect as if they've known each other for lifetimes. Their instant connection sparks a love so powerful, it takes Elizabeth's breath away. 
Enter Joshua—a dear friend who has been by Elizabeth's side for years after she moved to Dublin for university. Their bond is undeniable, but it's a different kind of love. Joshua never pushes her beyond friendship, and Elizabeth cherishes their connection.
As destiny weaves its intricate web, Elizabeth is faced with a heart-wrenching choice between the love she has always known and the love that beckons from the depths of her soul.
Recycled Souls includes the  novels My Recycled Soul, All Over Again, and When Destiny Collides.
For fans of Tamara Ireland Stone's captivating novel "Time Between Us," Recycled Souls offers a similar blend of heartfelt romance, intriguing twists, and the enchanting allure of a love that transcends time.
---
Imprint: Fiction for the Soul
Date First Published: 16 July 2009
For readers aged 13 and up
Paperback Dimensions: 5.5 x 1.16 x 8.5 inches
Pages: 461
This item can be returned in its original condition for a full refund or replacement within 30 days of receipt. 
Read full Refund Policy
.