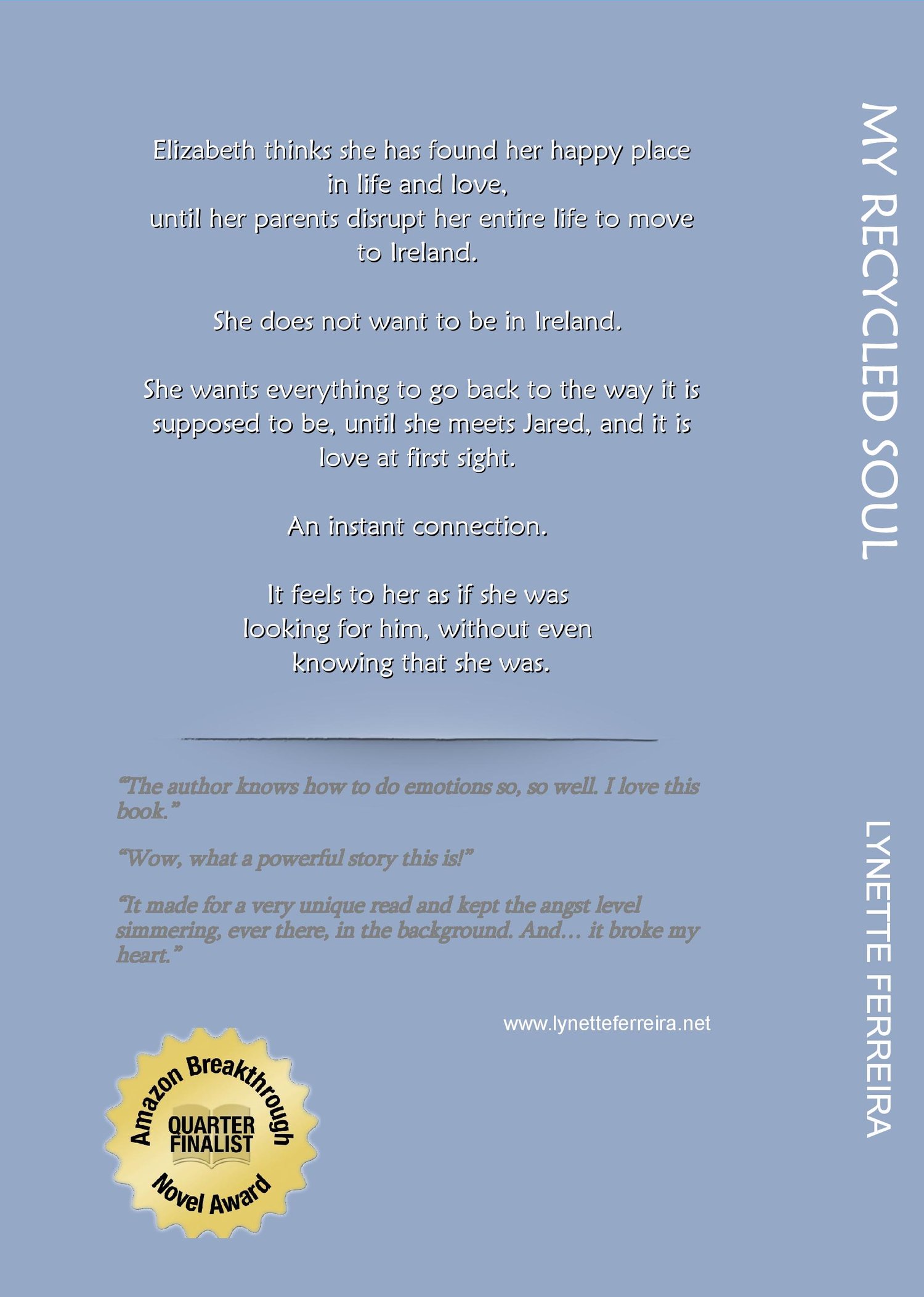 My Recycled Soul (Recycled Souls, Book #1) by Lynette Ferreira
On Sale
FREE POSTAGE & SHIPPING
As an alternative, the eBook is available and can be read on any device.
Secure transaction.
My Recycled Soul explores the boundless depths of love, the timeless nature of the human spirit, and the unbreakable bonds that tie souls together.
In a world where everything seems uncertain, Elizabeth believes she has finally found her happy place. Life and love are blissful, until an unexpected turn of events shatters her world. Her parents uproot her life and whisk her away to Ireland, a place she never wanted to be. As Elizabeth longs for things to return to how they were, fate has something extraordinary in store for her.
Enter Jared, a mysterious stranger who enters Elizabeth's life like a gust of wind, stirring her soul in ways she never imagined. From the very first moment they lock eyes, there is an electric connection, as if they were meant to find each other. It's a love that transcends time and space, defying all logic and reason.
As their love story unfolds, Elizabeth begins to unravel the secrets of her own past. She discovers a connection to Jared that stretches far beyond their current lives, intertwining their souls in a dance of destiny. With each revelation, the pieces of a puzzle start falling into place, leaving Elizabeth and Jared to wonder if their love is part of a much grander plan.
A captivating sweet romance novel that will transport readers aged 13 and older on a heartfelt journey of love, fate, and the power of second chances. Prepare to be swept away by the enchanting themes of reincarnation and destiny, as Elizabeth discovers that every twist and turn in life happens for a reason.
For fans of David Wiesner's captivating novel "Flotsam," My Recycled Soul offers a similarly poignant and enchanting narrative, where the extraordinary is woven into the fabric of everyday life. It invites readers to open their hearts and minds to the infinite possibilities of love, reminding us that sometimes, the greatest love stories are the ones that span lifetimes.
Get ready to embark on an unforgettable journey through time and love.
---
Imprint: Fiction for the Soul
First Published Date: 16 July 2009
For readers aged 13 and up
Paperback Dimensions: 5.5 x 0.69 x 8.5 inches
Pages: 274
This item can be returned in its original condition for a full refund or replacement within 30 days of receipt. 
Read full Refund Policy
.